On July 5th and 6th, ICAN Austria took part in the first Women Higher Education for Peace Forum organised by the UN Office for Disarmament Affairs (UNODA) in Vienna. The Forum aimed at fostering the participation of women in decision-making processes on peace-related issues and brought together professionals working in the field of disarmament, non-proliferation and development from international organisations, civil society and the private sector.
The UNODA Women Higher Education for Peace Forum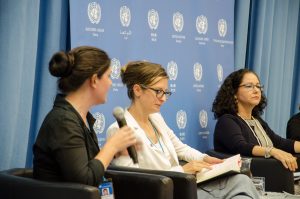 Covering topics from disarmament and non-proliferation to knowledge and gender gaps in the 21st century, a series of panel discusssions guided participants through the two-day programme – ICAN Austria's director, Nadja Schmidt, shared her own experience as woman professional in the field and suggested that a gender perspective offered a useful approach to nuclear disarmament, as it could contribute to deconstructing the illusion that nuclear weapons are instruments of power and safety.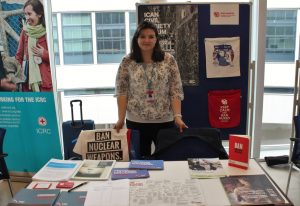 Relevant civil society organisations – among which ICAN Austria, along with UN offices and Agencies such as VCDNP, the IAEA, the CTBTO, the ICRC and WIN were invited to present their activities at a fair on the second day of the conference. Alissa Jachs, Paul Ploberger and Philine Scherer-Dressler presented both the international Campaign's work as well as ICAN Austria's national activities. During the two days, ICAN Austria´s Tweetmap was exhibited in the conference premises and was presented to the participants.
The ICAN Austria Tweetmap
The story behind the Tweetmap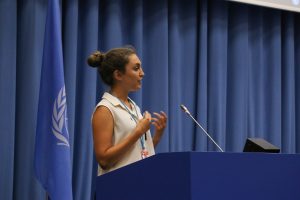 The underlying goal of ICAN is to achieve a ban on nuclear weapons – for this endeavour, a discourse shift in nuclear disarmament was the first step and in the years since the campaign's creation, we have witnessed the empowerment of a much broader community of states in nuclear disarmament: "democracy has come to nuclear disarmament", and the majority of states is ready to take the lead towards a prohibition of nuclear weapons. However, the complexity of the UN processes and the nuclear regime in general has made it difficult to communicate this to a wider public.
So the challenge we faced was: How can we show people that there's this rise of the silent majority?
This is why ICAN Austria developed two live reporting and advocacy tools. The first one is the Abolition-Map: a world map visualising governments' position towards nuclear disarmament at one glance – a tool for us to guide people through the jungle of acronyms and conferences and institutions. We have exhibited the Map at relevant conferences such as at the NPT in New York in May 2015 and the OEWG in Geneva in May 2016.
The second tool is the Tweetmap: a useful advocacy tool at conferences, as we can see not only what governments do, but what a variety of actors say: civil society, opinion leaders, the wider public, media, think-tanks, experts, scientists all over the world send condensed messages out into the world, and we capture them on a single page.
How does the Tweetmap work?
The ICAN Austria Tweetmap tracks twitter communication on nuclear weapons and nuclear disarmament in realtime and displays the 1000 most recent tweets on a world map according to a tweet's geolocation. New tweets will appear as they are posted on twitter in realtime – red dots signify tweets, blue dots retweets, and the lines between dots display the communication network between two users in the displayed data sample (e.g. user mentions other user in his tweet).
The Tweetmap at the #Edu4Peace conference
For the purpose of the UNODA Women Higher Education Forum in July, a special marker was added tracking #Edu4Peace and @dnpeducation. Overall, more than 700 tweets from all continents were recorded during the two-day conference.
And here we visualized these tweets on a world map: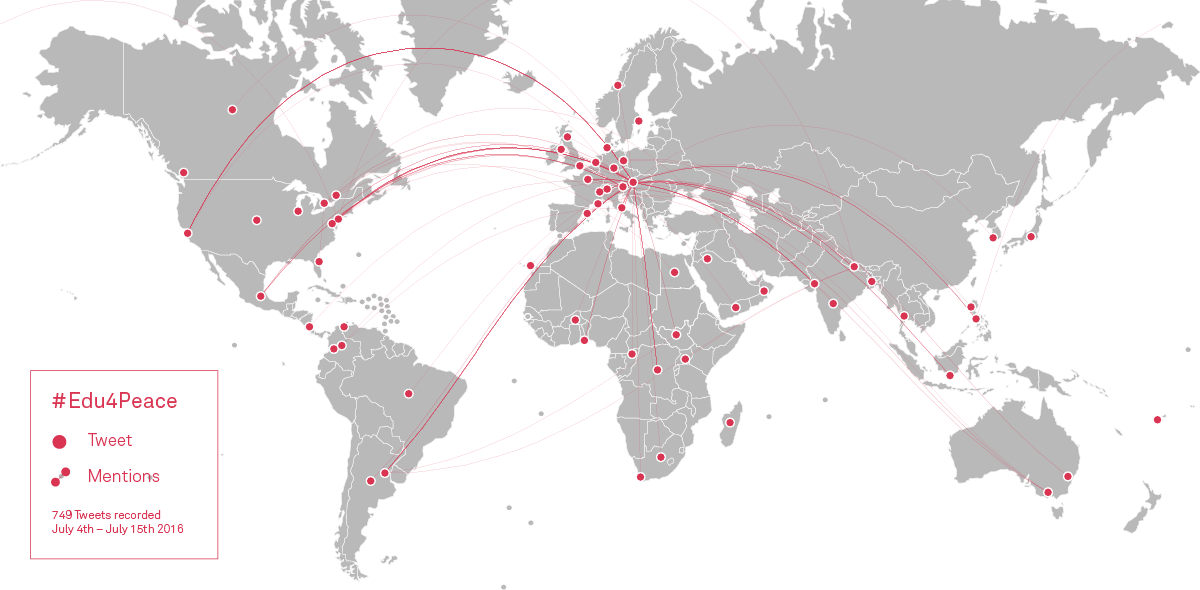 The Tweetmap is currently tracking the following terms, entities and hashtags:
#goodbyenukes, @icanaustria, @nuclearban, #HINW14vienna, #AustrianPledge, thecourageto, ican_australia, ICAN_France, ICAN_UK, ICAN_Norge, ican_de, icanw, ICANWFA, ICAN_Romania, ican_australia, ICAN_Romania, ICANTurkiye, NuclearZero, NoNukesCampaign, CTBT, ctbto_alerts, TridentHastoGoNow, NukewatchUK, NuclearWeapons, DontBankontheBomb, atomwaffenfrei, الأسلحة النووية, BANg_Austria, BANgeneration, globalzero, ScrapTrident, TridentPlough, unoda, NPT, nuclear weapons, nuclear weapon, nuclear bomb, nuclear bombs, nuclear disarmament, ICANW-FA, nuclearfreede, SinNucleares, RCW_, VCDNP, NPT Review, WardHayesWilson, CDNUK, ScottishCDN, No Proliferación Nuclear, سلاح_نووي, سلاح_نووى, arme nucléaire, armes nucléaires, Hiroshima Nagasaki, arma nuclear, nuclear armas, kernwapens, ydinaseita, armas nucleares, bombas nucleares, bomba nuclear, bombas atómicas, bomba atómica, 核武器, 核武器, 核武, Ядерное оружие, 核兵器, परमाणु बम, Kjernefysiske våpen, atomvåpen, kärnvapen, nükleer silahlar, senjata nuklir, आणविक हतियार, armi nucleari, nuclear strike, hydrogen bomb, wasserstoffbombe, wasserstoff bombe, H-Bomb, h-bombe, bomba atomica, Kernwapen, Kernwape, kernbom, atoombom, atoomwapen, Broń jądrowa, Wildfire_v, WMDAwareness, Non-Proliferation Treaty, WilbertNukes, weaselstates, CNDUk, classe Le Triomphant, kernwaffe, kernwaffen, nuklear sprengkopf, nukleare sprengköpfe, nuklearsprengköpfe, nuclear warhead, nuclear warheads, nuklearbombe, nuklearbomben, NPTtv, PaxChristi_Int, globalhibakusha, Article36, IPPNWS, atomic bomb, atomic bombs, atom bomb, atom bombs, atombomb, atombombe, atombomben, nuklearwaffen, nuclear arsenal, nuclear capabilities, weasel state, nuclear bomber, nuclear missile, nuclear test, nuclear weapon test, atom bomb test, atombombentest, atombomben test, nuclear ban, nuclear explosion, 核兵器, 原爆, 原子爆弾, 核軍縮, อาวุธนิวเคลียร์, נשק גרעיני, יאָדער וועפּאַנז, परमाणु हथियारों, 핵무기, อาวุธนิวเคลียร์, سلاح های هسته ای, ядерну зброю, broń jądrowa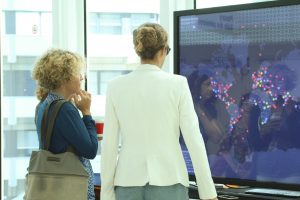 A tweet's geolocation is ascertained by geocoding the tweet's profile location or by using the tweet's appended location data. This information might not always be correct (e.g. user has entered "ponyland" as his/her location). Tweets, that cannot be geographically located, are currently not promoted to this site. Colloquial usage of one of the tracked terms might result in unexpected posts being displayed on this site.
Want to be listed? Make sure your profile's or your tweet's location is correctly entered and use one of the listed terms, hashtags or entities!